Celebrating Quality Instruction and Highly Effective Teachers
Celebrating Quality Instruction and Highly Effective Teachers
By Cathy Buyrn, M.Ed.
There is reason to celebrate in the field of education!  Rather than blaming dropout rates and poor student progress on risk factors such as poverty or family situations, more and more educators are taking the higher road. These dedicated professionals are turning the teaching profession into a collaborative problem-solving process driven by data. Believing that the factor that makes the greatest positive impact on student outcomes is quality instruction delivered by highly effective teachers (Varlas, 2009), they are leveraging technologies, communication skills, collaboration, and research to positively impact student outcomes regardless of risk factors.
So where are these highly effective teachers who hold the keys to quality instruction?  They are down the hall and around the corner in every single school building.  They are masters at working smarter and taking responsibility for each and every student who comes before them.  While many of these educators have outstanding high-stakes test results, you may not be able to identify them by test scores alone (Koppich, 2004).  They don't wait for standardized assessment results to determine what their students know and what they need to know.  Instead, they often collect their own data throughout their instructional process (McLeod, 2005).  In addition, they recognize that there are key instructional principles that must be managed and coordinated on a moment-to-moment basis in order for students to make progress.  As illustrated in Figure 1, these principles include activating prior knowledge, making connections, honoring working memory, managing instructional levels, modeling desired responses, providing accurate practice, and developing automaticity (Gravois & Gickling, 2008).
 Figure 1. Seven instructional principles.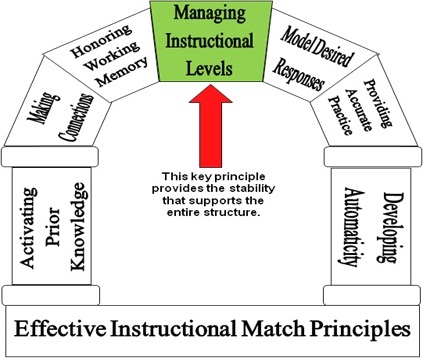 Note.  Adapted with permission from Gravois, Gickling, and Rosenfield (2007).
If you were to shadow one of these highly effective teachers, you would see these seven principles integrated into everything that they say and do.  They always introduce lessons by activating prior knowledge.  When students demonstrate a lack of prior knowledge, these master teachers fill it in for students and help them make connections with existing knowledge and skills.  Once prior knowledge has been activated or provided and connections made, these educators pair this information with research regarding the limits of working memory.  In doing so, they design instructional tasks that balance and connect known and unknown information in a way that maximizes learning for each student.  Managing instructional levels is a dynamic and fluid process, and these teachers know that they must continuously check to make sure that students' skills are matched to the instructional tasks.  When this balance is achieved and maintained, these educators solidify learning by modeling desired responses for students and designing tasks that provide accurate practice, and only then do they work toward automaticity (Gravois & Gickling, 2008).
These highly effective teachers who have mastered the art and science of quality instruction don't exist in isolation.  They don't close their classroom doors and quietly figure it out all by themselves.  They collaborate with other professionals in their buildings and in the educational community at large.  These teachers have maximized the types of collaborative opportunities that were described in the September/October 2009 Link Lines article Are YOU Well Connected? They have developed personal learning networks (PLNs) and consult them to get new ideas and feedback about their struggles and successes (Ferguson, 2010; U.S. Department of Education, 2010).  They engage in professional reading of current research to improve and expand their repertoire of skills.  When they discover an amazing instructional combination or resource, they share it with teachers down the hall and in online environments (Ferguson, 2010; U.S. Department of Education, 2010).  These master educators are passionate about actively engaging students and meeting them wherever they are on their learning journey.
How do these highly effective teachers do it?  How do they manage these daunting tasks in a context where high-stakes testing and accountability have many educators frustrated and panicked?  They do it by staying focused on the things that they can control.  They know that fragmented learning and missing skills must be addressed before moving students on to the next skill.  They continuously apply the seven instructional principles and even accelerate learning for struggling students, making it possible to narrow achievement gaps.  They understand that every positive instructional experience moves every student one step closer to graduation.
Administrators interested in a project designed to support and increase the number of highly effective teachers who are equipped to design and deliver quality instruction are implementing Instructional Consultation Teams (ICT).  ICT is a Virginia Department of Education (VDOE) state-directed project that supports collaboration, provides ongoing embedded professional development, and improves student outcomes. 
Dr. Todd A. Gravois, one of the developers of ICT, will be a featured keynote speaker at The College of William and Mary's School of Education's 21st annual   Symposium on Professional Collaboration and Inclusive Education, November 12, 2010.  His presentation is on "Creating Systems of Support for Teachers and Students: Collaborating for Change."
Additional information about ICT in Virginia may be found at: http://www.doe.virginia.gov/instruction/instructional_consultation_team/
To explore additional resources on supporting quality instruction and highly effective teachers, check out these resources at:
The William & Mary T/TAC Library:
Instructional Assessment
This Considerations Packet describes an instructional assessment model that helps teachers match instruction to student needs. The packet describes assessment of reading and writing skills, but the method is applicable to all academic areas.
Practice and Homework - Effective Teaching Strategies
This Considerations Packet focuses on practice and homework as instructional strategies that teachers can utilize daily to increase and maintain retention of information for all learners.
Techniques for Active Learning
This Considerations Packet focuses on techniques that teachers can easily implement to increase time on task for all learners.
A "Word" About Vocabulary
This Considerations Packet addresses important decisions teachers make as they plan meaningful vocabulary instruction for struggling learners.
References
Ferguson, H. (2010, June/July). Join the flock.  Learning & Leading with Technology, 37 (8), 12-15.
Gravois, T. & Gickling, E. (2008). Best practices in instructional assessment. In A. Thomas & J. Grimes (Eds.),. Best practices in school psychology V  (pp. 505-508). Bethesda, MD: National Association of School Psychologists.
Gravois, T., Gickling, E., & Rosenfield, S. (2007). IC teams: Training in instructional consultation, assessment, and teaming. Catonsville, MD:  ICAT Resources.
Koppich, J. E. (2004, January).  Using student tests to measure teacher quality. Center for Assessment and Evaluation of Student Learning Assessment Brief. Retrieved from www.caesl.org/briefs/Brief9.pdf
McLeod, S. (2005, May). Data-driven teachers. Retrieved from http://www.hved.org/web-content/PDFS/Data%20Driven%20Teachers.pdf
Varlas, L. (2009). Highly effective teachers: Defining, rewarding, supporting, and expanding their roles. ASCD InfoBrief, 15(3). Retrieved from http://www.ascd.org/publications/newsletters/infobrief/vol15/issue3/full/Highly-Effective-Teachers@-Defining,-Rewarding,-Supporting,-and-Expanding-Their-Roles.aspx
U.S. Department of Education. (2010). Career-long learning networks. National Education Technology Plan. Retrieved from http://www.ed.gov/technology/netp-2010/career-long-learning-networks