Win/Win When Writing: Grade Less to Help Students Learn More
By Donni Davis-Perry, M.Ed.
November/December 2013


The Virginia Department of Education's (VDOE) state-directed project Instructional Consultation and Assessment Teams (ICAT) has been implemented in the Commonwealth since 1999.  This important initiative provides training and technical assistance for conducting formative assessments, delivering quality instruction and interventions, collecting and analyzing data, and engagning in a problem-solving process. Further, ICAT provides professional development for teachers and administrators in reading, writing, math, and behavior.
When teachers follow the ICAT problem solving-process, they explore specific dimensions in each content area around which formative assessments are conducted. As an example, Figure 1 identifies the specific dimensions of writing. The dimensions guide teachers to probe what students know in each area – what they can do and how they think.

Figure 1. ICAT writing dimensions.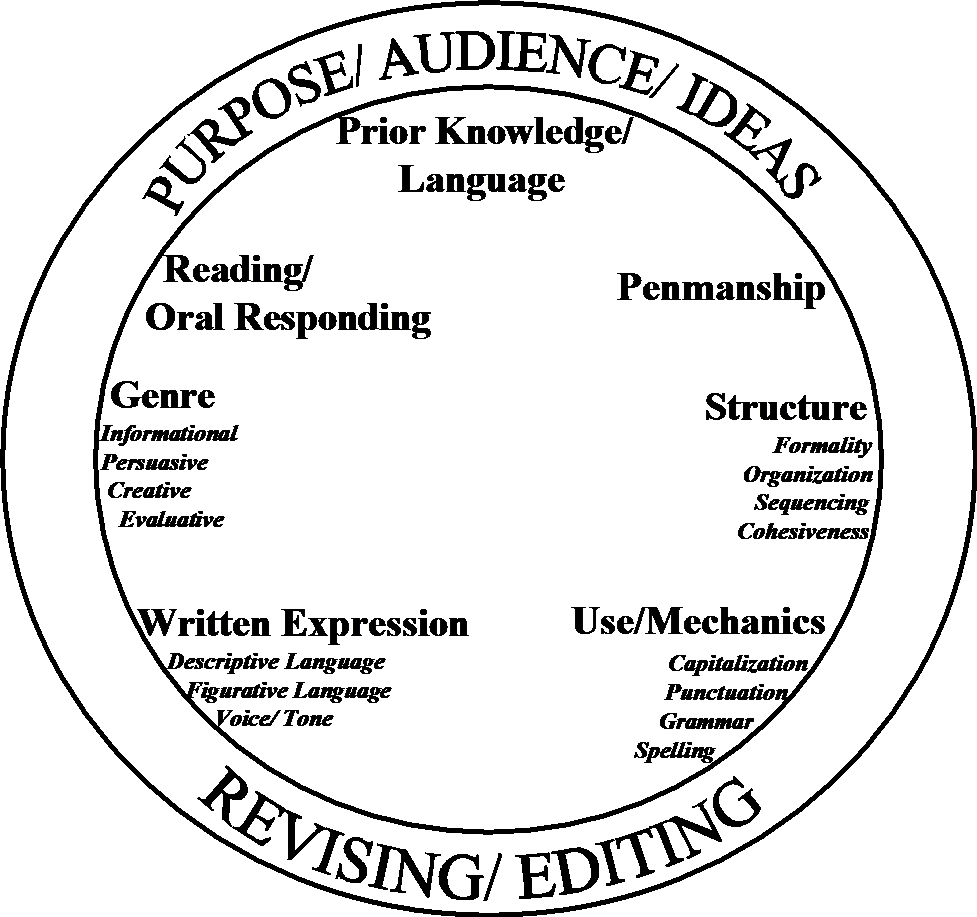 From Instructional Consultation and Assessment Teams: Training Manual, Book 3, 2011, p. 12. Baltimore, MD: ICAT Publishing.
The ICAT training manual, Book 3 (Gravois, 2011), presents a strategy that allows educators to direct a laser-like focus on learning to improve student writing. The 80/20 Rule, a strategy for editing, reminds teachers to monitor the amount of challenge when teaching and grading students' writing assignments to ensure it is appropriate. When using the 80/20 Rule, teachers tell their students to concentrate their efforts on one or two skills for each writing task.  This assessment practice prevents students from feeling overwhelmed and defeated when papers are returned with multiple errors and revisions.
The process begins with evidence-based writing instruction.  Next, teachers and students collaboratively set writing goals for each assignment. When assessing student writing and determing areas in need of improvement, teachers focus their attention on a maximum of 20% of the student's writing. For example,  when John and Mr. Morley review previous writing assignments, they select written expression (the writing dimension) as a learning goal and an area of focus for the assignment.  Mr. Morley works with a small group of students who are focused on learning how to make their writing interesting and descriptive.  Mr. Morley teaches the students the expanded sentence strategy found in the ICAT manual, Book 3 (Gravois, 2011).  Students begin by selecting sentences from their own writing or published text. They place the words from the sentence in a chart (see Figure 2) to determine what type of words could be used to expand and make the sentence more interesting. They add these words (see words in red) and then rewrite the expanded sentence and place it back into the selection. Mr. Morley provides confirming and corrective feedback and allows time for plenty of successful practice. After students practice this strategy, they have learned to revise their writing and to write more descriptively.
Figure 2. Expanded sentences chart.
Starter
Word
Abjective
(Sparkle
word)
Noun
(Who?
What?)
Verb
(Action
Word. Did
What?)
Adverb
(How word)
When/
Where/What
Why
Joining
Word
The

small

bright

boy
had been
working

quickly

all evening
completing
homework

because he

had a

championship

chess game
Adapted from Instructional Consultation and Assessment Teams: Training Manual, Book 3, 2011, p. 36. Baltimore, MD: ICAT Publishing.
When Mr. Morley provides feedback to John, he focuses on the second paragraph for teaching and learning without grading the remainder of the paper.  Although the second paragraph contains spelling and grammatical errors, they first concentrate on finding descriptive sentences in John's writing. Then they look further for a few sentences that could be expanded. John applies what he learned during the lesson and revises these sentences.  At the top of the paper, Mr. Morley identifies the focus paragraph and the dimension on which the assignment was graded and revised.
Using the 80/20 Rule helps create optimal conditions for learning (Gravois, 2011). Teachers strategically focus instruction and grade assignments to maximize student performance, and students use their revisions as a learning tool. Teachers  focus their attention on a select section within the assignment and asses the student's mastery of a specific skill.  Students focus on using writing strategies to increase learning and improve specific skills over time.
References
Gravois, T., Gickling, E., & Rosenfield, S. (2011). Training in instructional consultation, assessment and teaming: Book 3  ICAT Skill Acquisition Sessions 4-7. Baltimore, MD: ICAT Publishing.
If your school is interested in learning more about the ICAT initiative, please contact Donni Davis-Perry, specialist at The College of William and Mary Training and Technical Assistance Center (T/TAC); ddavisperry@wm.edu.