A "Ning," a "Gaggle," and November
A "Ning," a "Gaggle," and November
By Mary Murray Stowe, M.Ed.
A "Ning," you say? Yes, a "Ning" with a gaggle. Create a free, by-invitation-only website where your students can explore information of your choosing and interact with only you, their classmates, and other selected participants. A Ning can house your preferred exploration links to complete an assignment, prereadings in preparation for a unit of study, visuals for that unit, or even a discussion or blog on the unit topic. In addition, your students can post their work to the Ning. Have your students use the internet responsibly, and collaborate and interact with their classmates to complete critically thoughtful, higher-order assignments. With the Ning, students can access this environment from a school or home computer with Internet access, thus eliminating the age-old excuse - "I left what I need at school." Students can have all of the assignment details in one location, and in a format that they understand and use regularly. Parents can ask questions referencing the material or assigned task directly from the site.
To establish the Ning site (see Figure 1), go to http://www.ning.com for the directions. Your e-mail address will be your username. Your students are invited into your site through their e-mail addresses. If there is concern about using students' personal e-mail addresses, secure addresses may be created through
http://www.gaggle.net, a free resource for teachers (see Figure 2).
Figure 1: Ning Home Page
Figure 2: Gaggle Home Page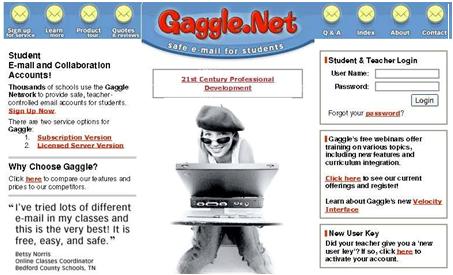 Exploring the Internet for your preferred sites will take some time, but your search will save your students valuable time and ensure they receive the information that you want them to have.
In Web Literacy for Educators, a newly acquired resource at the Training and Technical Assistance Center at the College of William and Mary (T/TAC W&M), Alan November provides information on efficiently and effectively conducting searches to gain the best websites for your assignments. Suggestions for resources, in addition to the usual directories or search engines such as Google and the new Bing from Microsoft, include AlltheWeb (http://www.alltheweb.com/); AltaVista (http://www.altavista.com/); Answers.com (http://www.answers.com/); Ask.com (http://www.ask.com/); Blinkx (http://www.blinkx.com/); Dogpile (http://www.dogpile.com/); RAMP (http://www.ramp.com/); and Lycos (http://www.lycos.com/), to name a few. More advanced searches can be done through the use of the host: command. "The host: command allows you to search through web pages hosted by certain groups or categories such as schools, universities, and companies. All you need to do is add host: to the search, plus one specific extension, such as .edu or .ac.uk." Use of the host command to specify a search might look this: host:nasa.gov + "student activities" (November, 2008).
Students use the Internet and its resources in their personal lives and can do so responsibly in their academic lives as well. A multitude of free accommodation resources can be accessed with this online format. Through careful crafting of a unit's study with the use of the Ning and Mr. November's suggestions, you can create an environment for 21st-century learning that makes work more relevant to your students' world and can be accessed by all students any time and any place with Internet access.
References
November, A. (2008). Web literacy for educators. Thousand Oaks, CA: Corwin Press.
November, A. (2009, June). The digital learning farm. Session presented at the annual School
University Research Network National Leadership Academy, Williamsburg, VA.