For immediate assistance, Call Brandon or Mark at 
1-4011
We provide immediate and planned classroom support to faculty teaching in the School of Education. Whether it's getting assistance setting up for a video conference, or answering the classroom assistance line during class, we've got you covered.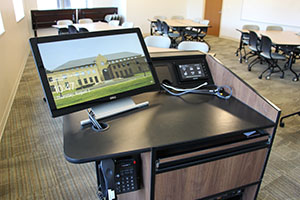 Every classroom in the School of Education is equipped with a phone on the side of each podium. If you call between 8:00am and 4:00pm, Brandon Corbett will provide classroom assistance. Mark Eaton answers the phone between 4:00pm and 10:00pm to accommodate evening courses. When Brandon or Mark are out, the phone rings to a Classroom Support staff member in central campus IT in Jones Hall. If you have a planned technology event in your course for which you may need assistance, please let Brandon or Mark know ahead of time, if possible. 
 You can reach School of Education Classroom Support at 1-4011 (no need to memorize this number- it is printed on every classroom phone). For assistance with accounts, passwords, or the William & Mary network, please phone the Technology Support Center at 221-HELP or email support@wm.edu.