by Dr. Jennifer H. Robins, Director of Publications and Professional Development
National Curriculum Network Conference
The 22nd annual National Curriculum Network Conference (NCNC) was held March 16–17, 2017. This year, our two keynote speakers were Dr. Todd Kettler, Assistant Professor at the University of North Texas, and Dr. Claire E. Hughes, Principal Lecturer and the Faculty Head of the Special Needs and Inclusion program at Canterbury Christ Church University in England. Dr. Kettler spoke on "Curriculum for Gifted Education: Understanding the Pedagogy of Differentiation," and Dr. Hughes presented "Brain-Behavior Links: Curriculum Implications for 2e Children." We also had a special double session on Leta Hollingworth, one of gifted education's pioneers, presented by Dr. John Wasserman on the second day of the conference. We were honored to have these gifted education experts speak at NCNC.
More information about next year's conference will be on our website later this summer. We hope many people will submit proposals and attend this great event!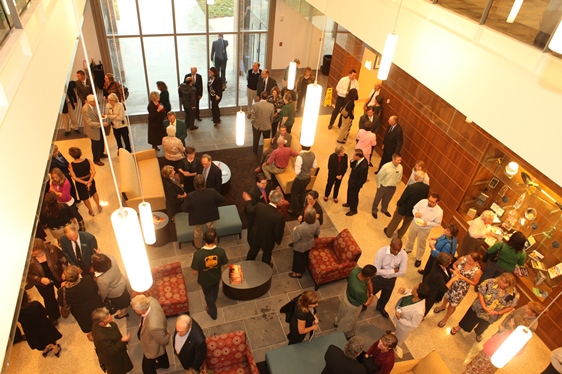 Summer Institute
The Summer Institute will be held June 26–27, 2017. Summer Institute provides teachers and administrators with the knowledge and skills to design and use high-quality curriculum within effective programs for advanced learners. Participants select one strand of study for the 2-day institute and receive intensive training in a particular area. This year's sessions include:
Center for Gifted Education Language Arts Curriculum
Designing Challenging Math Activities for the CCSS Elementary Classroom
Navigating the Information Highway: Strategies for Teaching Informational Text in the Content Areas for Gifted Students
What About Engineering? An Integrated STEM Approach to Addressing Multiple Content Standards
Advanced Placement Summer Institute
Our Advanced Placement Summer Institute (APSI) will be held over three weeks in 2017: July 17–20, July 24–27, and July 31–August 3. Each year the Center offers APSI for new and beginning teachers of AP courses and one Pre-AP English Institute. Endorsed by the College Board and led by experienced instructors, the Advanced Placement and Pre-AP Summer Institutes provide educators with the support and training needed to develop effective strategies for teaching an AP course. Each of the subject-based workshops shares curriculum content and teaching methods of AP courses and explores the content, structure, and grading of the AP exams. In addition, the workshops afford teachers the opportunity to interact with colleagues, discuss issues and concerns surrounding the AP courses they teach, and to share successes. Online registration for our 22 courses is now open!
Please visit the Center's Professional Development webpage to learn more about the offerings.