Abby Peterson
M.A.Ed. in Secondary Education, Mathematics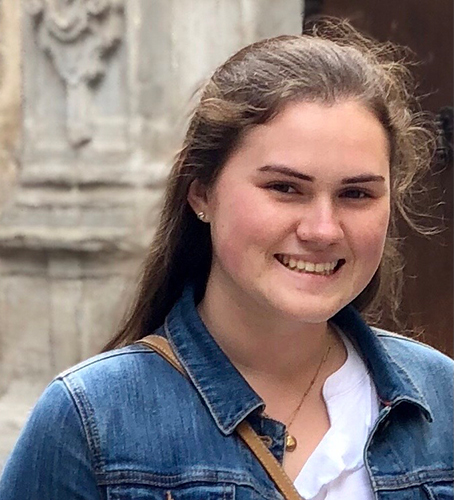 Curriculum and Instruction
2021, William & Mary, Master of Arts in Education, Secondary Education, Mathematics
2020, William & Mary, Bachelor of Science, Mathematics and Bachelor of Arts, Hispanic Studies 
What kind of educational and professional experiences did you have prior to beginning this degree?
I began this degree immediately following the conclusion of my undergraduate education. The opportunities I had to volunteer with students in the local schools and to work with college students in the Tribe Tutor Zone while an undergraduate reaffirmed my love for teaching and learning, and convinced me to pursue this meaningful work as a career. Further, the classes I took with the School of Education faculty as an undergrad opened my eyes to the complexity of the field and associated careers and engaged me in important conversations that I knew I wanted to continue in my work as a graduate student.
As a student pursuing a master's degree in Mathematics Education, why did you choose this field and what motivates you in this work?
When I started at William & Mary, I was not exactly sure what field I wanted to go into. However, I knew that I wanted to enter a field where I could make a meaningful difference, where I could work closely with others, and where I would become a part of a community. I also wanted to enter a field that was doing important research, and trying to answer tough questions, with the end goal of improving the lives of others. My experiences taking classes with the School of Education faculty and working in the local public schools showed me that education was precisely that field, and was a way that I could contribute meaningfully to my community. I am motivated to do this work because I know that an education represents an opportunity. Through education, we gain the skills and knowledge necessary for contributing to and engaging with our communities, both large and small. I want to become the best educator that I can be because I believe that every student should have that opportunity.
What do you hope to be doing after graduation? In 10 or 15 years?
After graduation, I hope to be teaching math in a high school a little closer to home (Massachusetts). I hope to be helping students find topics and activities that they are passionate about, and providing them with the foundational math and number sense that they will need to pursue those passions boldly, as mathematical thinking is a part of nearly everything that we do. Additionally, I would like to be a part of a school and larger community, where I can support student interests both inside and outside of the classroom. Through my work at the School of Education, I have come to realize that the field is vast and diverse. I may consider the transition from the classroom to administration or some other work in the field somewhere in the future, but right now I am excited about beginning my career as a classroom teacher.
Why did you choose William & Mary and specifically your degree program? What sets this degree program apart from those offered at other colleges?
I could not have been happier with the undergraduate education I received from William & Mary. Throughout my undergraduate career, I learned from professors who were truly passionate about the work they were doing and engaged their students in meaningful discussions about important topics. The faculty at the School of Education from whom I learned were no exception. It was the passion for the work they were doing, which they showed and shared in every class session, that made me excited about pursuing a graduate degree at the William & Mary School of Education. I chose to apply to the 5th year Bachelor's to Master's program because it provided a seamless transition from my undergraduate to my graduate education. I loved that during my senior year as an undergraduate, I had the ability to take classes that were directly connected to my career interests, and the work I wanted to be doing in the future.
What has been the most influential experience you've had so far in your program?
My most influential experience has been the site visits I completed as a member of the Noyce Scholars Program. The program helps to prepare STEM preservice secondary education teachers to teach in high needs schools in the future. Through the program, I have had the opportunity to visit a number of different high needs schools in the area and talk to the incredible teachers who are dedicated to serving the students at these schools. This opportunity exposed me to a wide variety of instructional approaches, and the conversations I had at the different schools we visited have given me practical tips that I will carry with me into the classroom. The passion these educators have for their job and for serving their students has been inspiring, and my interactions with them have reaffirmed the importance of the work that I am preparing to do.
Is there any additional information you would want a prospective student to know about the School of Education and its degree programs?
Prospective students should know that by joining the School of Education, they are becoming a part of a supportive community. This semester, I have seen peers come together and support one another while navigating the challenges of virtual instruction. Further, I have had professors from both previous and current semesters reach out and offer to be a listening ear and resource when I need it. This sense of community will last even after I have graduated, and I could not be more grateful.
Learn more