Cassie DiFrango
M.A.Ed. in Special Education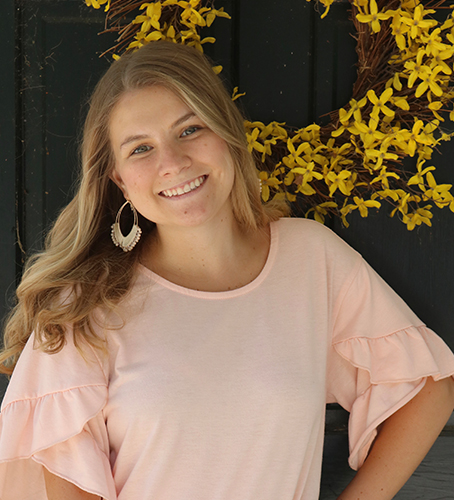 Curriculum and Instruction
2021, William & Mary, Master of Arts, Special Education
2019,

Christopher Newport University, Bachelor of Arts, Psychology
What kind of educational and professional experiences did you have prior to beginning this degree?
I have been working at the Down Syndrome Association of Greater Richmond for three years as an intern. During the COVID-19 shutdown, I taught a 6-week course on employment skills with the Down Syndrome Association. I have also been an assistant teacher and job coach during the Summer Employment Academy for the past three summers. 
As a student pursuing a master's degree in Special Education, why did you choose this field, and what motivates you in this work?
Sarah, one of my friends who has down syndrome, is the reason I pursued special education. Through my friendship with Sarah, I have noticed how happy she is just being herself. Sarah never judges others and always wants to be her best self. She is now a college graduate and has been steadily employed for three years. Sarah motivates me every day to be the best special education teacher I can be because I want all my students to be employed and as confident as her.
What do you hope to be doing after graduation? In 10 or 15 years?
My long-term goal is to get my Ph.D. in Special Education. I want to research the number of students with disabilities who are employed post-graduation. My hope then would be to increase those numbers by creating strategies and programs to aid in that goal. Before I pursue my Ph.D., however, I would like to take several years to teach special education at the high school level. Teaching will allow me to gain real-world experience with students with disabilities, working in various systems, and under multiple administrations. I aspire to start a program within my school that allows students to experience several different job sites once or twice a week for several weeks. This program would assist parents, students, and myself in finding the student the right job after high school.

Why did you choose William & Mary and specifically your degree program? What sets this degree program apart from those offered at other colleges?
It was my visit with Dr. Korinek, the former head of the Special Education Graduate Program, that impressed me more than anything else. From the moment I entered Dr. Korinek's office, I immediately felt welcome. I spent two hours in her office talking about what drew me to special education. Coming from a moderate-sized undergrad university, having close connections with my professors was a vital part of my search for a graduate program. I attended Prospective Students Day and was once again impressed with how invested everyone was in answering my questions and learning my story. Following my visit, Professor McLaughlin reached out via email to check to see if I had any questions, encouraged me to reach out if I needed anything and to thank me for attending. Since then, William & Mary School of Education has become my home.

What has been the most influential experience you've had so far in your program?
The most influential experience so far in this program has been my student teaching placement at DJ Montague Elementary School. I have learned a lot from my cooperating teacher and will take many of the things she does and apply them to my future classroom.
Learn more