Amanda is a PhD student from Virginia. Her BA is in History from Hollins College and her MA in TESOL from Eastern Michigan University. Amanda's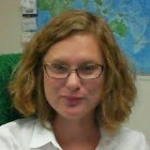 career spans the globe. She has worked in higher education in South Korea and Ecuador. She joins William & Mary from Virginia Tech where she spent the last four years working with international universities, travelling internationally and involved in international higher education capacity-building initiatives. She has worked with institutions in Haiti, Senegal, Saudi Arabia, Chile and Iraqi Kurdistan. Her areas of interest include higher education internationalization and policy affecting universities in developing countries.
 "I applied to W&M's program because of the college's and school of education's prestige. However, after having met with the faculty and felt their enthusiasm for the students and the program, I knew it was the place I wanted to be!"
Feel free to email Amanda if you want to learn more about her perspectives on the program.