Special Education Frequently Asked Questions
A Rewarding Career
Who are students in special education?
Students with disabilities vary greatly in their needs.  Students may have learning, academic, cognitive, physical, emotional, behavioral, special health care, or multiple needs.
What do special educators do?
Special educators work collaboratively with general educators, related services providers (speech/language, physical/occupational therapy) and parents to ensure students reach their learning potential.
What kind of preparation is required to become a special educator?
A valid state teaching license is required to be a special educator. The School of Education at The College of Willam and Mary has several degree options in special education including a five year Bachelors to Master's degree, two Master's degrees, and a Doctoral program. Professional preparation includes specialized course work, field experiences with students with disabilities, and student teaching.  
What employment opportunites exist for special educators?
Across the country, the demand for special educators has increased significantly. There are shortages of special educators in almost every state; they top the list in Virginia. A huge demand exists for male and minority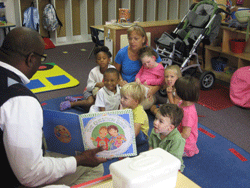 special educators. The salary range for special educators is $55,000-$80,000. Historicially 100% of graduates of the Special Education programs at W&M's School of Education find employment in their chosen field.
Have a lasting impact on the lives of chidren with disabilities and their families, be a special educator!


Sources: The Personnel Center, National Center for Special Education Personnel and Related Services, The Virginia Department of Education, The Council for Exceptional Children, The U.S. Department of Education, US Bureau of Labor.